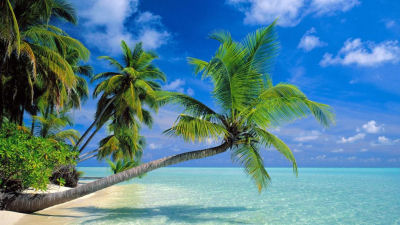 Our trip to the Maldives
by Phil Dewhurst
It's that in between period, you know, Christmas has gone and we're all waiting for New Year's Eve. I'm back in work, selling stamps for late Christmas cards going to Australia, America and other far flung destinations; taking bill payments for people who don't like to be in debt going into the New Year and taxing cars for people who can't do it online. I suppose you're still at home, don't go back into work until the New Year. Lucky you. I'm jealous!

Outside, it's grey and cold and miserable. Typical December weather. But if I close my eyes I see blue sky, turquoise sea and tiny islands with white sandy beaches and in my mind I'm back on board Sea Spirit, or Sea Queen, wearing shorts and a tee-shirt and scorching my bare feet on a hot deck. I'm scanning the horizon for dolphins or jacks chasing fry across the reef top or maybe just maybe a glimpse of the big 'un. Please God let me see a whale shark before I go home.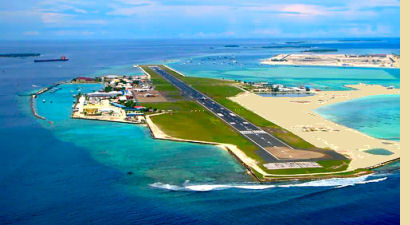 The trip had been two years in the planning. There was the usual drop outs and a panic to find replacements but on the day we were all prepared. Twenty four members and friends of Llantrisant Sub-Aqua Club off to enjoy two weeks live-a-board cruising around the northern atolls of the beautiful Maldive islands.

Everything went with almost military precision: the bus taking us to Heathrow was on time, the overnight stay went without hitch and the flight in an Airbus, 380, well, what can you say? There was enough of everything. Enough legroom for tall Paul, enough food for Paul the gas, plenty of choice of films to watch and enough beer even for me.

We changed planes in Dubai for the short leg through to Male and arrived on time 9-30am Sunday 25th September to be met by Matt and Anne Marie our dive guides for the trip. The luggage was loaded onto a dhoni and we were off across the harbour to join Sea Spirit and Sea Queen anchored in a lagoon just around the corner.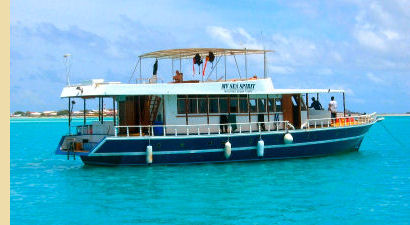 Once on board we were allocated cabins; they were functional but small...with an even smaller toilet/shower...

I was to share with Peter Swarfield and thankfully he decided he was going to sleep on the sundeck. I had a cabin all to myself. Thank you Lord. Our party was a truly international one and whilst we waited for some to arrive from Moscow and some from America we did a check dive to add or remove weights. In my case it was all addition...

Our first dive was at Lanakan Corner, a well known cleaning station frequented by Mantas. We clung on at 25 metres and waited and waited. Some drifted further down the reef but three of us decided to stay. And we were rewarded when three huge mantas came out of the blue; they barrel rolled, pirouetted and skimmed our heads before pausing to be swept clean by little blue wrasse. This is what we had come to see.

You'd think it couldn't get better, but it did. Throughout the two weeks we visited magical sites with magical sounding names: at Finger point we saw eagle ray, grey shark barracuda and sting ray, at Nelivaru Thila we saw blue striped snapper octopus, even a leaf fish. And at Hani Faru lagoon we saw manta, lots of manta. Manta feeding in the bay, manta on the cleaning station and manta posing for what seemed hundreds of Japanese tourists, all equipped with Nikons and all screaming at once. It was without doubt, manta heaven.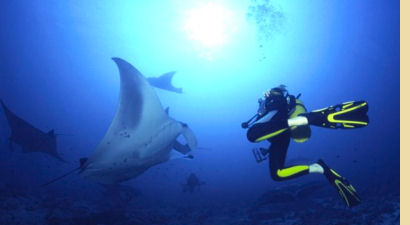 At a mark known as the Ship yard, a good portion a wreck was out of the water. But underneath, the structure was coated in the most fantastic coral growth. It was a photographer's delight. At Kuredu we swam in and out of the caves trying hard not to disturb the giant green turtles resting up with their eyes closed. At Longridge we hung on as the strong current threatened to rip our masks off our faces. We used finger ends and reef hooks to hold our ground as twenty big grey sharks circled around us.

The diving was fantastic as was life on board Sea Spirit. As I look out of at grey turning to drizzle my mind drifts to those early mornings, sat watching the sun rise out of a calm sea. I think about the meals we enjoyed, all around a big table on the foredeck. It was amazing the variety of food we were served. But most of all I remember the camaraderie and the evenings spent with a cold beer orthree or maybe a rum and coke. We certainly put the world to rights and we discussed the rugby world cup and when we ran out of things to say we watched fantastic video shots of our dives taken by Matt or Anne Marie, and shown on a wide screen telly. The boat crew were marvellous, nothing was too much trouble. They even let me have a go with their fishing gear, but somehow they always managed to catch more fish than me. Even the weather played ball allowing us to get to most marks. It only rained once and that was at night.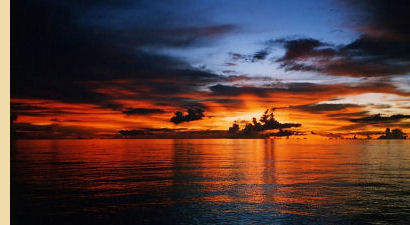 All too soon it was time to leave. On the last night we went ashore to enjoy an evening in a local hotel and say goodbye to our friends from the USA and Russia.

Back in Heathrow the weather was remarkably warm, the coach turned up on time and just before midnight we were back in Llantrisant. Thanks to Peter Rees for organising the trip, collecting the dosh, checking folks passports, generally looking after everybody and providing us with the photo shot of the week with his bum showing through his shorts which were more hole than material. Thanks to Matt and Anne Marie, they were fantastic guides. Thanks to the boat crew and finally thanks to God, for not granting my wish. We didn't see a whale shark. The crew tried hard but Mr. whale shark wasn't anywhere to be seen. But hey, what the hell! That's just another good reason for wanting to go back there again ....
and soon.

Phil. Dewhurst.

phillthepost@yahoo.co.uk