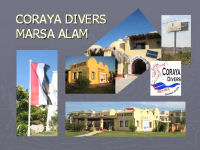 My Kind Of Dive Holiday.
Lamaya Resort Marsa Alam Egypt.
by Phil Dewhurst

Wednesday 18th May 2011

There's always one on every flight and they're always in the seats near me, as I go to put my hand luggage into an empty space in the overhead locker I hear a voice tell me, "You can't do that, I've another case to go in there." I look around; there's no reserve sign. "Tough," I should have told the giant of a man with his case poised in mid air. But I didn't. Instead I find another gap in the next locker. What's the point? More to the point, he's bigger than me. I make myself comfy, daps off, book stored safe. Sandra has the bag with the earphones, neck-pillows, eye shades, spare socks, sleeping tablets, tummy tablets, kitchen sink.

We take off on time, the plane reaches cruising height, seat belt sign goes off, there's a rush for the toilets. Nothing changes. With five hours to go I settle down. The film starts; Gulliver's Travels; it's crap but watch-able crap. Cabin crew come around with their over-priced drinks. We order two rum and cokes, tiny bottles of Bacardi and mega cans of coke. "That'll be £11.30 Sir." Who cares, we're on holiday and anyway, Sandra's paying. I'm glad we've ordered meals – £7.50. It's standard aircraft nosh but eating helps pass the time.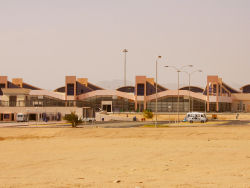 The flight soon passes, we arrive on time. There's a queue to have our passports checked then another to go through the scanners but all goes well and we're soon outside in the hot sun. It's 32c. Thomson's reps direct us to the coach that will transfer us to our hotel, fifteen minutes later we're at the Lamaya resort.

Check in is quick and efficient. By the time we find our room the cases have arrived, I tip the boys $5, they're grateful for the gesture, we're grateful for the air conditioning, it's noisy but efficient. We have a king sized bed, lots of cupboard space, a shower room and a separate room with two sofa beds. Sliding doors lead out to one of three swimming pools. We unpack quickly and within ten minutes we're enjoying a refreshing swim. Dinner is a relaxed affair, afterwards over several rum and cokes, we chat with Peter and his family and Mike and Pat Rees our companions for this holiday.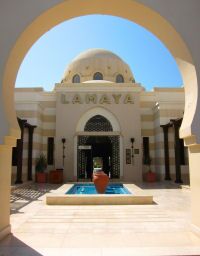 Thursday 19th May

Our last visit to Lamaya was two years ago, we're surprised by not only how many of the staff we recognise, but how many of them recognise us. We're greeted like old friends. I get the feeling I must have been over generous with the tips.

It's the same story at the dive centre and as a result the formalities are completed in minutes. I'm informed that because I'm a returning guest I don't need to do a pre-dive check. Thank God for that, I store my dive gear in my locker and book in for a dive.

At the briefing I list my qualification level and number of dives; 500+. I look down the dive sheet. Some divers have done ten dives, some twelve dives, some have completed twenty. I see the others looking at the list. The dive master looks at my entry, and smiles. "You've been here before?" I nod, and look around the table for re-action; I'm a smug bastard.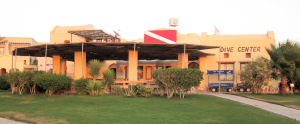 The briefing starts with safety procedures, dive signals then the plan. I remember the dive site but listen along with the eight other divers as the guide gives his spiel in English then German then pigeon Italian. He tries a bit of Russian but gives up when the guy from Moscow tell him, "I speek little Inglis."

We don our suits and carry the kit to the jetty. En-route I tell the guide this is my first dive this time but my third visit to Coraya. "How much weight do you use?" He asks.

"I've loaded my belt with 6 kilos"

He looks at my girth. "You'll need at least 8," he tells me.

"I dived with 6 in the Maldives, in January" I reply loud enough for the others to hear; they're kitting up but I can see they're listening.

"There's lead on the rib if you need it." He smiles, knowingly.

We load our gear onto the rib. There's a strong wind. Outside the bay there are white horses. "Put your feet in the straps and grip the handles," the guide demonstrates; the skipper checks around then guns the twin engines. We're off. It's a bumpy ride in the rib but within ten minutes we're at the dive site. Buddy teams had been selected by the guide, my buddy is a biggish German guy, I smile; he blanks me. Do I give a toss?

We roll of the boat in pairs, give the ok signal, the guide gives the thumb down, divers descend, I lift the hose, squeeze the button, nothing happens. I should be going down but I'm not. I put my head under the surface and see the other divers sinking to the sea bed. I try again: lift the hose, press the button to release air from my jacket, hear a re-assuring hiss, still nothing happens. I look down. The guide is at 10 metres and signalling, "What's the problem?" My buddy is staring up at me. If looks could kill…I'm not feeling so smug now. Mr. 500 dives and he can't even descend tidy. I look to the boat. The skipper is leaning over the tubes waving two kilo weights at me; I swim across and stuff one in each pocket then try again. This time I sink.

The dive is good, we see the usual fish, the usual corals, same old same old, but it's good to be back and good to be underwater. And the water's warm, my computer reads 25.C. Our dive lasts 50 minutes, back on board the rib I apologise to the guide. He's too polite to say told you so but his expression tells me he's met smug bastards before…they're all the same. When we arrive at the jetty I add the two weights + another one to my belt. I'm diving with Peter and Mike later and can't afford another slip up. The plan is: lunch then rest then another dive. The reality is: lunch, one small beer, two glasses of rose wine then sleep. Bugger the diving.

The pattern for the week is soon established: get up at 08-00, breakfast, usually three hard boiled eggs, crusty bread with lashings of butter, two/three cups of tea then back to the room for a lie down till 10-00am, down the dive centre at 10-20, get the kit together, briefing at 10-30, journey to dive site, dive for an hour then back for lunch at 13-00. I always intended to do another dive in the afternoon but somehow never did.

Friday 20th May

Mike did his check dive yesterday afternoon; Peter went along for the dive. Today we're diving together. The plan is to drop in off the north reef and drift back to the jetty but the wind is howling so we join a party who intend diving along the south reef. It's a fifteen minute journey by speed boat but should be a better dive.

The briefing is given in a similar fashion to the one I sat in on yesterday. We list our qualifications and number of dives, I note Peter's entry reads 1100+ dives – and I thought I was a smug bastard. The guide takes his time with the safety issues and ends by telling us, "Please check all your equipment before you leave the jetty." After yesterday's episode I listen and nod. We load our kit onto the rib then climb aboard. It's a rough ride, the wind has whipped the sea into a frenzy, we climb the waves and drop down the other side, the kids think it's great, the over twenty ones hang on for grim death.

At the dive site we kit up. There's a problem with Peter's tank, the valve isn't seating, there's air leaking big time.
"Did you check your gear on the jetty?"

We roll off the boat, all of us except Peter.

This is better, those extra weights have worked, I sink like a stone and feel very comfy. Mike and I buddy up, we don't see a great deal but it's a pleasant, relaxed dive. After 45 minutes we shoot a dmsb to the surface and ascend slowly.Back on board, Peter has fixed the problem using his knife as
a makeshift screwdriver. At the jetty he tells us after we'd gone down he sneaked a crafty twenty five minutes on a solo dive much to the displeasure of the boat skipper.

Saturday 21st May
Another glorious day and the wind has dropped back, slightly. We meet at the dive centre and join our group to listen to the briefing. We load our gear on the rib and climb aboard, everybody else is kitted up except us three. The guide smiles sympathetically and sighs. "Eet is little ride to site, we kit up first, save time, I told you at briefing." We smile back. "Don't worry," he says, "you can kit up when we stop." The other divers looked on Bloody Inglis. We kit up at the site, it didn't make a deal of difference.

Backward roll off the boat, Mike, myself and Peter are a team for at least five minutes, then Peter finds something worth shooting…with his camera. After that he was a trail of bubbles somewhere to the rear. Mike and I carried on. Eventually Peter catches up.

Sunday 22nd May

We're getting into a routine and even though Mike had said he was having a day off he's there at the dive centre with his kit. Out guide looks to be about 12 years old. He gives the briefing then tells us he isn't coming in the water. We drop to 10 metres then down to another wall at 15 metres. I signal to Mike I'm going over, he hovers above. I descend, 20, 25, I level out at 27 metres, I can see Mike above me, Peter's bubbles rise somewhere in the distance. There's not a lot to see, I re-join Mike and we drift slowly along the reef. There are two other divers in front of us; I recognise them from the rib. They drift along slowly, stopping here and there to look. They look so relaxed and remind me very much of Lyn and Mac from the club.

We see lion fish, puffers, clown fish, moray eels and just before the forty minute mark a turtle. He was swimming along in the blue, not a care in the world. I fin over expecting him to shoot off but he didn't. Mike joins me and we spend a few moments in his company, I managed to take some close up photos before he decides he's had enough and turns towards the reef. Peter catches up with us and we fizz off at 10 metres amongst colourful corals before ascending slowly to our safety stop.

I had planned to visit the water park, a-joining the hotel, after lunch but the beer and the wine. What else can you say?

Monday 23rd May

This is my last but one diving day. Usual meet up and briefing, there's only the three of us…until a German guy turns up, he's mixed his days up. But we accommodate him. He's only open water qualified so the guide, who wasn't planning on diving, has to come in the water. We drop in on what is known as the pinnacles and descend to 29 metres then ascend to keep within de-compression limits. The colours are beautiful, the fish life stunning. Our dive lasts 52 minutes.

Today's plan is: lunch, then snorkelling but by now you have an idea what's going to happen and you're spot on.

Tuesday 24th May

My last dive; Mike isn't coming and Peter almost doesn't make it due to a dose of the Pharaoh's Revenge. Two Loperamide later though he thinks he'll risk it. The wind is bending the palm trees double and the bay is a mass of white horses. We're supposed to be going North – so far I've only dived South. The guide says we can't follow the plan; we'll have to dive south. What the hell, at least we'll get wet and there's no such thing as a bad dive. Briefing, get the kit together, I could nearly do this blind fold.

Aboard the rib we hang on as wind and waves buffet us. I lose the strap off my hat and have to ride with one hand on my head. After ten minutes we stop. Kitting up is a challenge but eventually we're all ready. The guide counts 1, 2, 3. We roll in. It's calm beneath the surface but above us we can see waves thundering against the reef. Peter and I descend; 20, 25, 30 metres. We're at the bottom of a pinnacle. In the rocks banded shrimp play around a mammoth moray, a giant puffer fish sleeps on the white sand, groupers lurk in search of a meal. We rise to 20 metres and swim around a coral garden. The diving here is so relaxed. Our dive lasts 52 minutes. We swim into the blue and send up a buoy.

On the surface there's no sign of our boat. The sea is rough and I'm glad of the 50 bar reserve. I keep my regulator in my mouth and my mask on. Eventually the boat appears. The skipper has seen us. Other divers have ascended at different points, we're the last on board. The guide does a head count, he's relieved to see us all back safe. The trip to the jetty is hairy but we make it without incident.

For the last time I wash my gear in one of three tanks available at the dive centre. The sun is beating down. My stuff won't take long to dry. After lunch I intend to pay my bill, buy some tee-shirts and pack but two glasses of wine and a beer or two then a snooze….I can always pack tomorrow.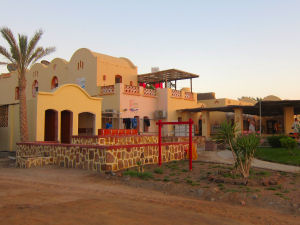 Wednesday 25th May

Going home today, I pick my gear up from the centre, pay my bill and say my good-byes. But, I'll be back, I know I will.

We spend the day mooching around the hotel, checkout time is 12-30 but they let us keep our room for a bit longer, no charge. Our cases are collected just before lunch, at 2-30pm we hand the key into reception; the coach arrives at 3:00pm.

Peter and Mike wave us off. Our flight home is on time and despite rumours of ash clouds from Iceland we land on time at Gatwick airport. The temperature here is a chilly 9c.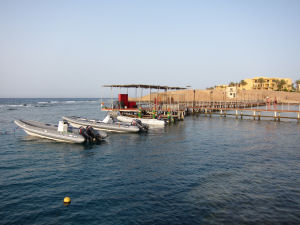 During our stay I did six dives, all from a speedboat, all at sites about 20 minutes journey time south of the jetty. My bill, including two tee-shirts came to around 200 euros. I took all of my own gear but you can hire and the prices are reasonable.

The Coraya Dive Centre is 20 metres from the Lamaya resort. It's a very efficient and very conservation minded operation so much so they have sacks available for divers to collect rubbish.

Diving is either from the jetty, in the bay, or via speedboat to marks along the north and south reefs. There are also full day trips each day to visit sites further down the coast.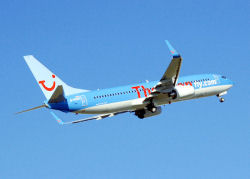 We travelled with Thomson. Our all inclusive package included flights from Gatwick and transfers to and from the hotel. The accommodation was superb; the food excellent with plenty of variety and the drinks just kept coming. There are three swimming pools, a gym, a spa and a library.

Night-time entertainment is low key but what is lacking in professionalism is made up for in enthusiasm by a hard working animation team. Children are catered for but there's not a lot for teenagers.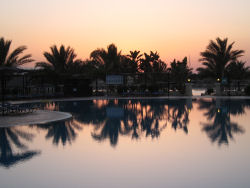 The flight time is five and a half hours. We booked extra luggage allowance – £17.50 for an extra 5 kilos, and on board meals – £7.50. Our 7 day package cost just short of £600 each.

For a little bit more we could have stayed for a fortnight but we had commitments. I like Coraya because it's civilised diving, the Lamaya resort is one place where I don't feel so guilty going off diving and leaving Sandra on a sun-bed with a nice cocktail for company.


---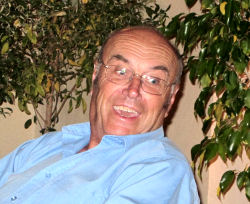 Ton up in Marsa Alam
By Mike Rees
Like most qualified divers who log their all their dives the 100th is always a milestone worthy of something special. With 98 logged dives I was thinking about "something special" when a rather careless mate mentioned he had just accidentally dropped the outboard motor from his tender into Cardiff Bay Marina. Naturally "Tall Paul" and I offered to recover it. Well, it was not quite what I had in mind as "something special" but it was different from Stack Rocks etc. and I had just bought a new semi dry suit which I was keen to try it out. Well, plans were made. At our pre dive briefing on the slipway the realisation crept in that it was February 1st, water temperature was 0 centigrade, visibility was also likely to be "0" and just maybe we might not succeed. Well after a rather undignified entry from a small, wobbly, blow up rubber boat Paul bumped into the Honda 4.5 engine and I fell 4 foot off the yacht to help recover it. With mission accomplished and dive 99 completed we both declined the chance of a second "recreational" dive in Cardiff Bay so dive number 100 would just have to wait.

And so to Marsa Alam!

Phill the Post and Peter Rees had both waxed lyrical about the diving from the Lamaya resort in Marsa Alam and so we all booked for the end of May. What a super resort and the Coraya Dive Centre is the best and most organised dive centre I have used. The facilities were first class. Lockers, showers, wash tubs for diving kit, drying room for wet suits and a free cuppa while we did the post dive briefing. What impressed me from the start was their professional attitude. Not content with a thorough examination of your diving credentials / certificates ALL divers new to them, irrespective of their qualifications, have to do a check dive with a dive master and demonstrate your ability to perform some basic skills. At first I thought that's a bit over the top but thinking about it I was assured that they were so thorough and not just interested in taking my money. The day after we arrived, Phil and I strolled down to the dive centre to enrol and I was given a tour of the centre and its facilities. As expected my test dive was arranged for the same afternoon on the house reef.

At 2pm I was kitted up and ready for the pre dive brief by our Dive Marshal, Yousef, who is a lovely guy. He explained the procedure and what was expected. There were two of us on the test dive, myself and another diver, Michael from Germany recently qualified. After a short walk to the end of the jetty we kitted up (bottles, inserts and weights had been delivered there). The others walked down the steps but I took a giant step and dropped the ten feet into the water. We descended 4m to see a load of poles and other paraphernalia used during training courses. In the centre was what can best be described as an underwater boxing ring on the sea bed. We swam inside where Yousef signalled us to remove, replace and clear our masks and then to remove and replace our regs. Simple enough for trained divers you might think but one of the Michaels shot straight to the surface immediately his mask was removed! Apparently a 50% failure rate is not unusual and the reason why they insist on skills test for newly registered divers. Before you ask I upheld the reputation of Llantrisant Diving Club and Richie's training regime. See Photo. So now you know how I did the ton in Marsa Alam.

Phill has written about our experiences of "civilised "diving elsewhere so I won't 'dwell on it other than to say that it has the best potential to combine diving with a good family holiday. You can dive as often or as little as you want. I chose to dive most mornings and spend the rest of the day relaxing around the pools or on the beach with the wife. Unlike Sharm they are all separate rib based dives from the jetty so you are not away from 8am to 6pm on a hard boat. If you are a hard core diver you could still dive three times a day. The resort is a little remote and if you need the hustle and bustle of disco/clubbing etc then it is probably not for you. If, however, you have reached that age when you like a more "civilised" way of diving then this could be the answer.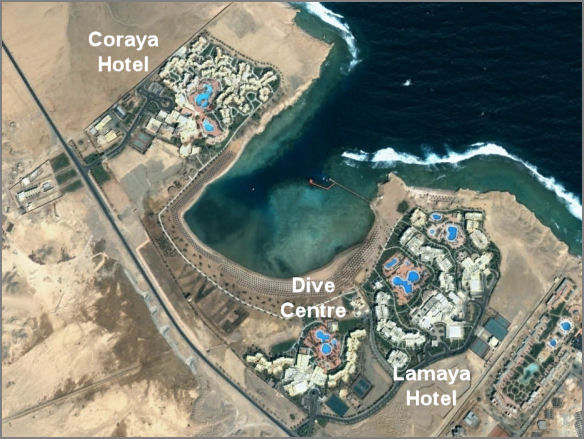 Aerial View of the Coraya Medinat


We'd previously booked into the Lawn Guesthouse in Horley near Gatwick airport – www.lawnguesthouse.co.uk before our flight out to Egypt and again on arrival in Gatwick before going back home (including car parking; I'd recommend it to anyone flying from Gatwick, the service is excellent) and I was glad of the opportunity of a night's sleep before that long drive back to South Wales.