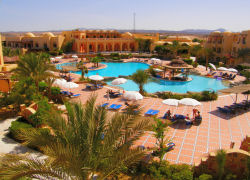 The Coraya Beach Hotel is one of four hotels situated around a small bay called Marsa Umm Geirfat and is just 10 minutes drive away from the Marsa Alam airport in Southern Egypt.

Llantrisant Sub Aqua club have used the Coraya Beach several times for a last day of rest and relaxation following a hectic week of live-aboard diving in the Red Sea. We've always said that it would be nice to try a week at the Hotel with wives and partners and finally we got around to doing just that.



The Hotel is a five star establishment with fabulous facilities including three swimming pools, a gymnasium, tennis courts, squash courts, an outdoor theatre and several bars all with their own specialities. Visit their web site at: www.iberotelegypt.com

But perhaps more important to readers of this report, is the Coraya Divers Dive Centre situated in the bay just a stone's throw away from the hotel. For more information about Coraya Divers you can visit their web site at: www.coraya-divers.com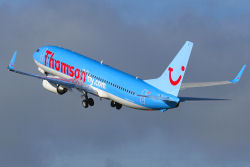 We left Gatwick on time and five hours, 40 minutes later arrived in Marsa Alam. The heat hit us as soon as the aircraft doors were opened; my wife Sandra and I were glad of the air con as we were whisked with almost indecent haste through the arrivals hall and onto our coach.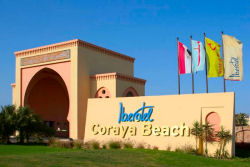 The Hotel check in was efficient, our room on the third floor of a block had stunning views across to the desert and contained all that was necessary for a comfy stay including as well as the normal, air con, a telly and a mini bar.

That evening we were content to enjoy a twilight dip in the hotel swimming pool followed by dinner, a couple of beers and an early night.
My dive buddy for the week was none other than club Diving Officer and world famous underwater photographer Peter Rees and of course his camera. We met up for breakfast the following morning and by 10.00am Peter and I, loaded down with gear were walking around to the bay to the dive centre.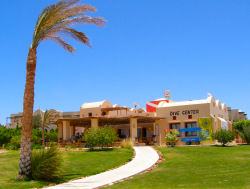 Somebody once said that the easiest job in the world must be that of a weather presenter in Egypt. There's no need for fancy instruments or charts; you just get up every morning and tell your audience that today it's going to be hot, dry and sunny.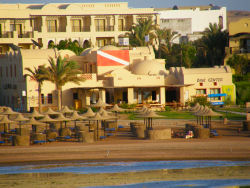 It sure was hot walking around to that dive centre. We loaded all the gear onto my wheelie trolley and took turns but we were still knackered by the time we got there.(as is typical, we later discovered that there was a shuttle bus running between our hotel and the dive centre every hour so we used that for the rest of the week).

There is a wide variety of dive options on offer at the dive centre. Anything from liveaboard mini safaris to day trips by boat and shore based on the house reef. The centre also runs courses, offers the facilities of a guide and rents equipment, and all this in a number of languages; the atmosphere is deceptively laid back but, believe me, underneath is an ultra smooth operation which can cater for up to 200 divers per day during peak season. There is a classroom for trainees, toilets, showers, lockers, rinsing tanks and a drying room.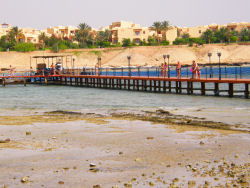 They also have a shop on site and serve food and drinks. The walls of the centre are festooned with maps and charts of dive sites and various underwater photographs taken around the area. There is even the facility to download your own photographs on to the dive centre computer for viewing.

One bonus is the fact that the dive centre is not a PADI dive centre with all the usual bullshit that comes with PADI centres. It is an SSI centre and is run on a very professional basis. For an interesting article on PADI v SSI . . . Click Here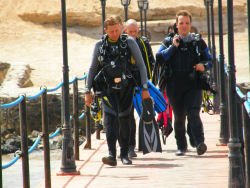 Registration was easy as we'd both been to the dive centre previously and after I'd filled in the medical sheet, you know, the one with the small print where you tick all the nos, we were allocated lockers for our equipment.

We found some shade and kitted up, taking our time to drag neoprene suits over sweaty skin – God it ain't half hot 'ere. Then carrying our fins, regs, masks and cameras, made our way to the jetty. The air cylinders and lead weights are kept at the end of the jetty.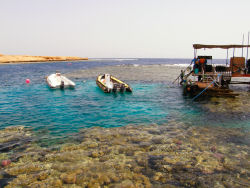 You need to obtain a ticket from the girls at reception who, at this point, book you out. As a safety issue, you're supposed to tell them when you return after your dive which seems a bit hit and miss to me but it seems to work. At the end of the jetty a team of workers are ready to sort you out with a weight belt and exchange your ticket for an air cylinder. Nitrox is available but we stayed with air throughout the week.

There are three options for diving: you either go in directly from the jetty via a giant stride into four metres of water or there's a zodiac that will take you along either the south or the north wall or for a small charge you can ride in a speed boat to various dive sites outside the bay.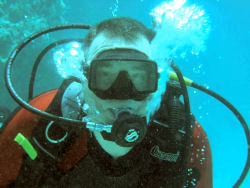 We tried all three methods… they were all fantastic. On that first day we entered via a giant stride from the jetty. I had a new wet-suit (that's my excuse) and needed time to sort my weights out but soon joined Peter who was already engrossed in taking piccys of all sorts of fishes that were sheltering under the training platform. Viz was around 10 metres and the water temperature a stunning 26C.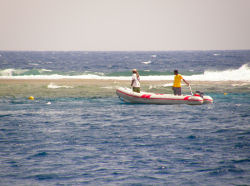 We made our way down the reef which bottomed out at 30 metres, before coming back to 18 metres which is where most of the marine life was to be found. It's not easy buddying up with a photographer but as we both had cameras it was just a matter of keeping sight of each other and though we both lost each other from time to time, a tell tale stream of bubbles or a sight of a coloured fin in the distance meant we kept in touch…sort of.
Through the week we did eight dives, all on the house reef and we saw a variety of marine life, nothing big, nothing really unusual but between us we managed some stunning photos and enjoyed a week of really relaxed diving. You can see some of our piccys at the bottom of this page.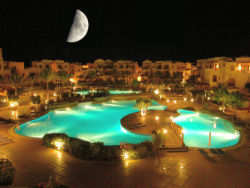 Sandra came back as brown as a berry whilst I'm only tanned around the face and hands. Friends can't believe we've been to the same place. Our Hotel was fantastic. The variety of food available in the main restaurant was outstanding; there is an al a carte restaurant and a couple of snack bars but we had enough with a giant breakfast and dinner.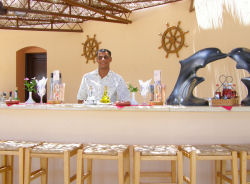 Service in the bars was good, nothing seemed to be too much trouble and the cocktails which Sandra took a liking to were well presented if a little on the expensive side.

The only downside to the holiday were the usual bad stomachs. I had one most of the week, and Sandra picked up a bug right at the end of our week. Even Peter suffered mild symptoms; it seems to be inevitable on holidays to this part of the world and may influence any decisions on a return visit. If anyone has a remedy I'd be most grateful.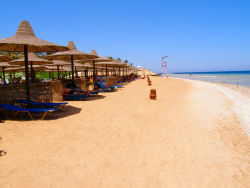 All too soon it was time to go home. The week had passed quite quickly and we were soon packing our cases to leave the hotel. Before we knew it we were being picked up from the hotel and transferred to the airport for departure. We all managed ok on the plane…if you know what I mean and were grateful for a speedy exit through baggage claim and customs.

We'd previously booked into the Lawn Guesthouse in Horley near Gatwick airport – www.lawnguesthouse.co.uk before our flight out to Egypt and again on arrival in Gatwick before going back home (including car parking; I'd recommend it to anyone flying from Gatwick, the service is excellent) and I was glad of the opportunity of a night's sleep before that long drive back to South Wales.